Controller Introduction (PLC, ETC)Services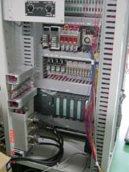 No matter for newly-equipped or already equipped facilities, large or small scale, the supporting control system can be provided.
Regarding to the proposal and with sustainability being considering, progress is made continuously while the easiness to operate, reliability, safety, maintenance, etc, during operation are considered.
Aiming at well men-machine communication and with more concern on the operation panel, machine arrangement, ergonomics, etc, the easiness to operate is highly emphasized.
From the central panel such as independent type & desk type, water-proof type, dust-proof type, etc, subject to the usage and working environment is designed and produced.
From the production of hardware up to the design, completion, debug and on-site trial of software, the expected completion date is always fulfilled.
Performance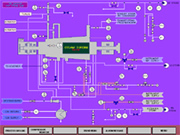 Performance in PLC, PAC, SIS
Japan
Mitsubishi, Omron, Toshiba, Hitachi, Sharp, etc.
International
Allen-Bradley, SIEMENS, Mondicon, GE FANUC, TELEMECHANIQ, TRICONEX, PROSAFE, WOODWARD, BENTLY NEVADA, TRIDENT, ICS Triplex, etc.
Performance in PC
Pocket software
iFIX
InTouch (dealer shop)
WinCC (SOLUTION PARTNER)
RSView (ROCKWELL)
VISUAL BASIC
VISUAL C
C++
Software debug
Action test with simulation
Communication test (Protocol communication test with PC)