Sheet metal processing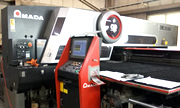 Sheet metal forming
Both thick sheet (2.3~4.5) and thin sheet(1.0~1.6) processing can be done. Iron plate, aluminum, stainless steel, etc, will be chosen subject to the working environment.
Types
Water-proof type, dust-proof type, purge increase independent type, desk type, wall type or other applicable specification can be made. (based on JIS, NEMA, IP CODE, NFPA/ISA, UL.)
Painting
Subject to the working environment, various methods such as baking coating, powder coating, salt preventing coating, etc, can be used. (Special coating can be arranged.)
Assembly processing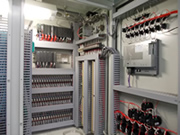 Focusing on the easiness to operate and maintenance, arrangement and wiring aiming at easy to exchange parts is done.
Wiring
For crimp, solder included and lapping connection, we possess high reliable assembly technology with long experience.
Tubing
Wiring and tubing within frame of picoless copper tube, covered copper tube, nylon tube, various SUS, etc, is done.
Optical cable wiring
Using optical cable, wiring with high reliability is performed.
Instrumentation and electrical work
Perform various on-site works whenever requested.
Inspection

Internal inspection
Carry out inspection for appearance, electricity conductivity, pressure resistance, insulation, running test, etc, according to our internal standard.
Besides, configuration of various meters is also performed.
Synthetic inspection
Perform general inspection of hardware & software, and running inspection for the main body.
Others
Prepare educating project and carry out education on request.
Focusing on the improvement and maintenance, finished documents and manual, etc, are submitted.